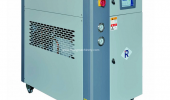 MÁY LÀM MÁT BĂNG NƯỚC - WATER - COOLED INDUSTRIAL CHILLER
---
Model: RCM - W Series
Thương hiệu: Rhong Machinery
Xuất xứ: China
Bảo hành: 12 tháng
Water-cooled industrial chillers(scroll type) RCM-W are appicable for cooling moulds to reduce products molding cycle,also Water-cooled Central Water Chillers are available in the cooling of equipments in order to maintain a normal temperature.Besides,Plastic Central Water Chillers are suitable for other industries with the need of cooling
Plastic Industral Chilling Machine Good features:
Cooling temperature range 5-35oC.
High-capacity tube-in-shell evaporator with very good heat exchange performance especially for high ambient temperature condition.
Tube-in-shell evaporater with excellent heat transfer and rapid cooling.
Stainless steel warm-keeping water tank.
R22 refrigerant to be used for efficient cooling.
R407C environment-friendly refrigerant is optional to use.
Overload protection for compressor, pump and blower.
Independent temperature controller, anti-freeze protection.
Phase sequence protection for control circuit, refrigeration loop controlled by high and low pressure switch.
Warm-keeping design for all piping to avoid partial convection.
Suitable for machine cooling in industries of plastics, electroplating, foodstuff, electronic products, bleaching and dyeing, ultrasonics.
Model

RCM-3W

RCM-5W

RCM-8W

RCM-10W

RCM-12.5W

RCM-15W

RCM-20W

RCM-25W

RCM-30W

Chilling capacity

Kw

7.5

13.5

20

25.5

31.5

38.5

50

62.5

77.5

Kcal/hr

6450

11610

17200

21930

27090

33110

43000

53750

66500

Compressor output power

Hp

3

5

8

10

12.5

15

20

25

30

Refrigerant

-

R22 R407C

Evaporator

-

Plate type

Condenser

-

Plate type

Condenser in/out pipe dia

inch

1"

1"

1"

1.5"

1.5"

1.5"

2.5"

2.5"

2.5"

Tank capacity

L

60

60

95

95

150

150

180

200

280

Pump power

Kw

0.75

0.75

0.75

1.5

1.5

2.2

2.2

2.2

2.2

Hp

1

1

1

2

2

3

3

3

3

Pump max.flowrate

L/min

100

100

100

200

200

230

600

600

600

Pump max.pressure

Kg/cm3

3.2

3.2

3.2

3

3

2.4

2.6

2.6

2.6

Chilled water outlet

inch

1"

1"

1"

1.5"

1.5"

1.5"

2.5"

2.5"

2.5"

Chilled water inlet

inch

1"

1"

1"

1.5"

1.5"

1.5"

2.5"

2.5"

2.5"

Drainage outlet

inch

½"

Overflow port

inch

½"

Weight

Kg

120

200

220

280

320

362

450

550

600

Enternal size

L

Mm

1163

1163

1163

1163

1163

1780

1780

1780

1780

W

Mm

740

740

740

740

740

1090

1090

1090

1090

H

mm

991

991

991

991

991

1350

1350

1350

1350
Copyright © 2019 khoinguyentrading.com - Thiết kế Website : Phương Nam Vina